reliable roofing professionals
Commercial Roofing Contractor in Maryland
Priddy Roofing and Exteriors is pleased to be your go-to source in Maryland for commercial roofing solutions. We are proud of our commitment to quality, craftsmanship, and customer satisfaction. We have years of expertise helping businesses in Maryland and are familiar with their particular roofing requirements.
Your Trusted Roofing Solution
Your Maryland Partner for Commercial Roofing Services
When it comes to commercial roofing services in Maryland, we take great satisfaction in being your go-to company. We have a strong dedication to quality and a lot of knowledge, so we are aware of the particular difficulties Maryland's climate and architectural style provide for commercial roofing. No matter where in Maryland you are located—in Baltimore, Annapolis, or elsewhere—our team of committed experts is available to meet all of your roofing needs.
As your neighborhood partner, we take the time to understand the particular roofing issues you face. Whether you need roof upkeep, repairs, or a full replacement, we have you covered. We won't stop working until your commercial roof in Maryland is functioning at its peak, ensuring durability and protecting your company, thanks to our commitment to perfection. Experience the peace of mind that comes with top-tier knowledge and quality when you choose Priddy Roofing and Exteriors as your Maryland partner for commercial roofing services.
Please get in touch with us to discuss your requirements for commercial roofing and allow us to demonstrate why businesses all around Maryland choose us. We want to be your trusted partner for all of your commercial roofing projects since your satisfaction is our ultimate aim.
Best residential roofing experts
What sets us at Priddy Roofing and Exteriors apart is our commitment to quality and customer satisfaction. Our licensed and insured team understands the unique challenges posed by Maryland's diverse climate and architectural styles. We take the time to assess your roof's condition thoroughly, offering tailored solutions to address any problems while considering your budget and preferences.
GAF
We specialize in using GAF's underlayment and high-performance asphalt shingles to create a multilayer barrier that prevents moisture from reaching your roof's decking. This results in a more durable and reliable roof that will protect your home for years.
CertainTeed
We work with CertainTeed, leaders in the roofing industry for the highest quality standards, to bring you more than 300 different roofing options. So whether you're looking for something specific or want to browse through the possibilities, we're sure you'll find what you're looking for with us.
Owens Corning Certified
Our selection includes Owens Corning roofing products, offering a wide range of shingles, underlayments, and components to suit any roofing project. With options for both traditional and modern styles, we provide everything needed for your ideal roofing system.
Professional Commercial Roofing Solutions in Maryland
Serving the Roofing Needs of Maryland Businesses
We have a team of experts who offer specialized roofing solutions that are tailored to your property's requirements. We are a Maryland-based company, so we are aware of the particular roofing difficulties this area presents. Your business roof must be able to resist all weather conditions, including snowy winters and muggy summers. In response, we are here. Our staff of qualified experts is knowledgeable about the most recent roofing methods and supplies to guarantee your company's year-round protection.
No matter the project, whether it's roof repairs, preventive maintenance, or a full roof replacement, our Maryland team of specialists is driven to provide perfection. In order to make sure that our services not only meet but also surpass customer expectations, we work closely with business owners and facility managers.
Experience the difference of working with a staff that is well familiar with the roofing requirements of your company. Contact us today to talk about your commercial roofing job, and let us do our best for your commercial roofs. We are excited to be of service to you since your success is our success.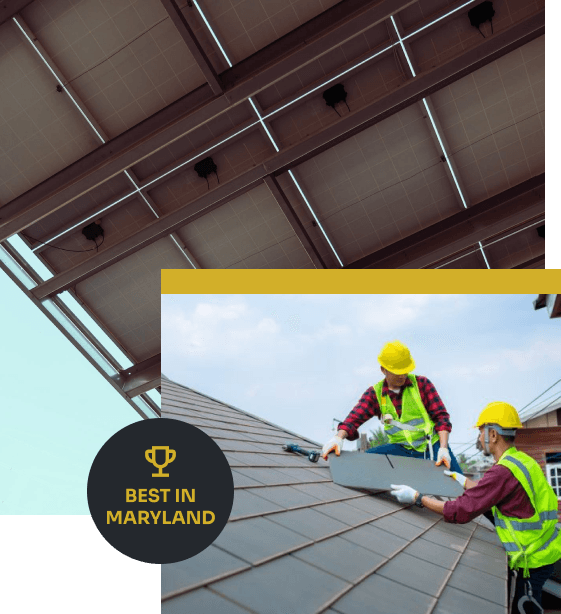 Steps to
Commercial
Roofing Excellence
In Maryland, Priddy Roofing and Exteriors is a company you can trust for residential roofing services. Contact us right away for a free consultation and quote rather than waiting for roofing problems to get worse. Contact us today.
Get a Roof Inspection
 Begin with a comprehensive consultation where our experts assess your commercial roofing needs. We evaluate the current state of your roof, discuss your specific requirements, and provide tailored solutions to meet the unique demands of your commercial property.
Roofing Solutions
Following the assessment, we design a roofing plan tailored to your building's needs, factoring in budget and durability. We assist with insurance paperwork, ensuring you maximize your claim benefits for the roofing project, whether it involves repair, replacement, or upgrading.
Professional Installation
Our skilled team carries out the installation with minimal disruption to your business operations. We ensure the highest standards of quality and efficiency. Post-installation, we offer ongoing maintenance services to keep your commercial roof in optimal condition, thereby extending its lifespan and maintaining its performance.
Your Satisfaction Is Our Priority
At Priddy Roofing and Exteriors, we believe every home tells a story. Beyond just aesthetics and durability,
At Priddy Roofing and Exteriors, we believe every home tells a story. Beyond just aesthetics and durability, it's about creating a space that resonates with warmth and security. With a blend of top-grade materials, expert craftsmanship, and a genuine understanding of our clients' visions